After School Board Games
Kids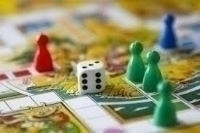 Date:
Wednesday, September 29
02:00 PM
-
03:00 PM
Wednesday, September 29, 2-3pm. All ages. Play one of our many board games or bring your own to share. Registration required. Space limited due to social distancing.
Please note that children in grade 4 or younger shall, at all times, be attended and adequately supervised by a responsible person over 16 years old while in the Library.
All Dates
Wednesday, September 29

02:00 PM - 03:00 PM